Oregon Equipment Pictoral History
Through The Years with the Hillis Family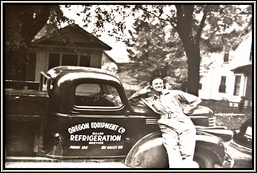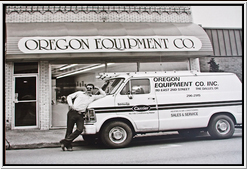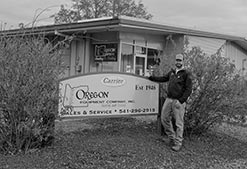 Oregon Equipment Co Inc Past to Present Over 75 Years of Change Yet Still the Same Family and Quality of Service.
Oregon Equipment was founded by Joe & Jeanne Hillis on January, 2, 1946 in the small town of The Dalles, Oregon shortly after his return from WWII, flying B-24's for the Army Air Corps.
Before joining the Army Air Corps., Joe had gained experience working with his brother in the commercial refrigeration field in Klamath Falls, Oregon and he decided to continue with that tradition on his own in The Dalles.
The original location was a rented building at 105 E 2nd Street downtown The Dalles. They remained at this location until they purchased the "Lemke Saloon" building across the street at 110 E 2nd Street in the mid 1950's. This became home for the next 60 years providing the gorge area with commercial and residential refrigeration equipment and appliances also providing service on those appliances.
In the mid 1960's, their son Hewitt Hillis started working in the family business preparing it to forge through its second generation.
For the next 40 plus years, the business changed with the times to stay relevant and keep providing for the changing needs of local Gorge residents. During this time, the business transitioned from appliances and refrigeration toward more of a heating and air conditioning focus. Eventually, the company purchased and began operating its own sheet metal shop to provide complete installation, sales and service of residential and commercial HVAC systems.
In the late 1990's Hewitt's son, Ron Nelson, started working in the family business and began the journey for a 3rd generation.
In 2008, the business had changed to the point it needed more space and better access for service vehicles and customer parking. This prompted the move to our latest location 1505 W 1st Street, The Dalles. Today, the business is still adapting with the times to provide for the always changing needs of the local Gorge community, currently focusing mostly on residential and commercial HVAC systems, sales and service.
It has been our pleasure to be supported by the local communities and their businesses for over 75 years. We look forward to many more years of success and a bright future for our Gorge customers, friends and family.